There is always something going on at Octane5!
Check out the latest or follow us on LinkedIn to stay in the loop
On the starting grid: how F1 is driving forward with licensing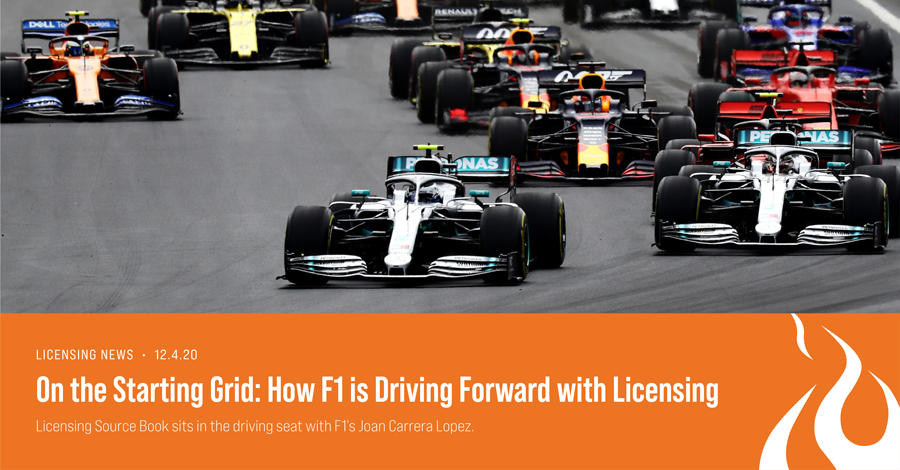 By Keith Pashley
November 4, 2020
Source sits in the driving seat with F1?s Joan Carrera Lopez to see what action race fans can expect to see off the track as well as on.
?To be completely honest, licensing was not a focus in the old era, but since Liberty Media acquired the business in 2017, the licensing team was properly established and it started to build a strategic programme,? observes Joan Carrera Lopez, senior manager, retail and CPG licensing at Formula 1. Now, the licensing team sits within the digital content and licensing department under Frank Arthofer?s leadership, and within this, there are four verticals: CPG, retail, gaming and experiential. Something is clearly working.
?In 2019, we had a double-digit growth over 2018, and despite the COVID-19 situation we are still forecasting to keep growing our programme in 2020,? says Joan.
Assets are key to helping deliver such strong performance. Joan explains that licensees and partners have access to the new and modern F1 logo, as well as the majority of Event Title Graphic lock-ups for the Grands Prix. An ever-evolving licensing style guide now includes generic imagery, a 3D customisable F1 2022 car, patterns and icons.
While each F1 team owns its IP and has its own licensing programme, the sport and its teams see a joint opportunity and will soon announce its first physical product together. ?We have started working on new consumer products in the collectables category, where we definitely are stronger together,? says Joan.
Supporting this, Joan points out that F1 does have rights from the teams in the digital space and has successful video games across various platforms, including the F1 2020 console game from Codemasters.
COVID-19 has had an impact on most industries, including sport and entertainment, but most importantly on people?s lives.
?F1 has been able to adapt to the situation very rapidly, launching our F1 Esports Virtual Grand Prix Series where F1 drivers and celebrities kept the sport alive while we all were in lockdown and could not race in real life,? adds Joan. F1 returned to the track in July and, from a retail perspective, started the season behind closed doors and so the trackside retail business has obviously been impacted.
However, the online store has been growing in line with the global trends. ?Our licensing programme has had to adapt and some product launches have been delayed, with online distribution becoming more important,? Joan continues.
Joan also points to the future. ?2020 is our 70th anniversary season and we have already launched a fair number of products including fanwear, face coverings, high-end prints, fashion collaborations and phone cases.? He advises that on re-analysing and re-evaluating its category strategy, F1 is currently targeting six priority categories: apparel, accessories, toys and collectables, publishing, retail and experiential, but will also be looking into travel, automotive, personal care, gift and novelties and consumer electronics.
Over the summer, F1 signed new licensing agreements for a streetwear collaboration with Anti-Social Social Club and UNDEFEATED, eyewear, perfume, an official history book and luxury writing instruments.
?Most of these products will launch between Q3 2020 and the beginning of 2021. There will obviously be more to come in 2021, so stay tuned,? Joan concludes.
This feature originally appeared in the autumn 2020 edition of Licensing Source Book. To read the full publication, click on this link.