There is always something going on at Octane5!
Check out the latest or follow us on LinkedIn to stay in the loop.
Octane5 Enters the NIL Licensing Game with The Brandr Group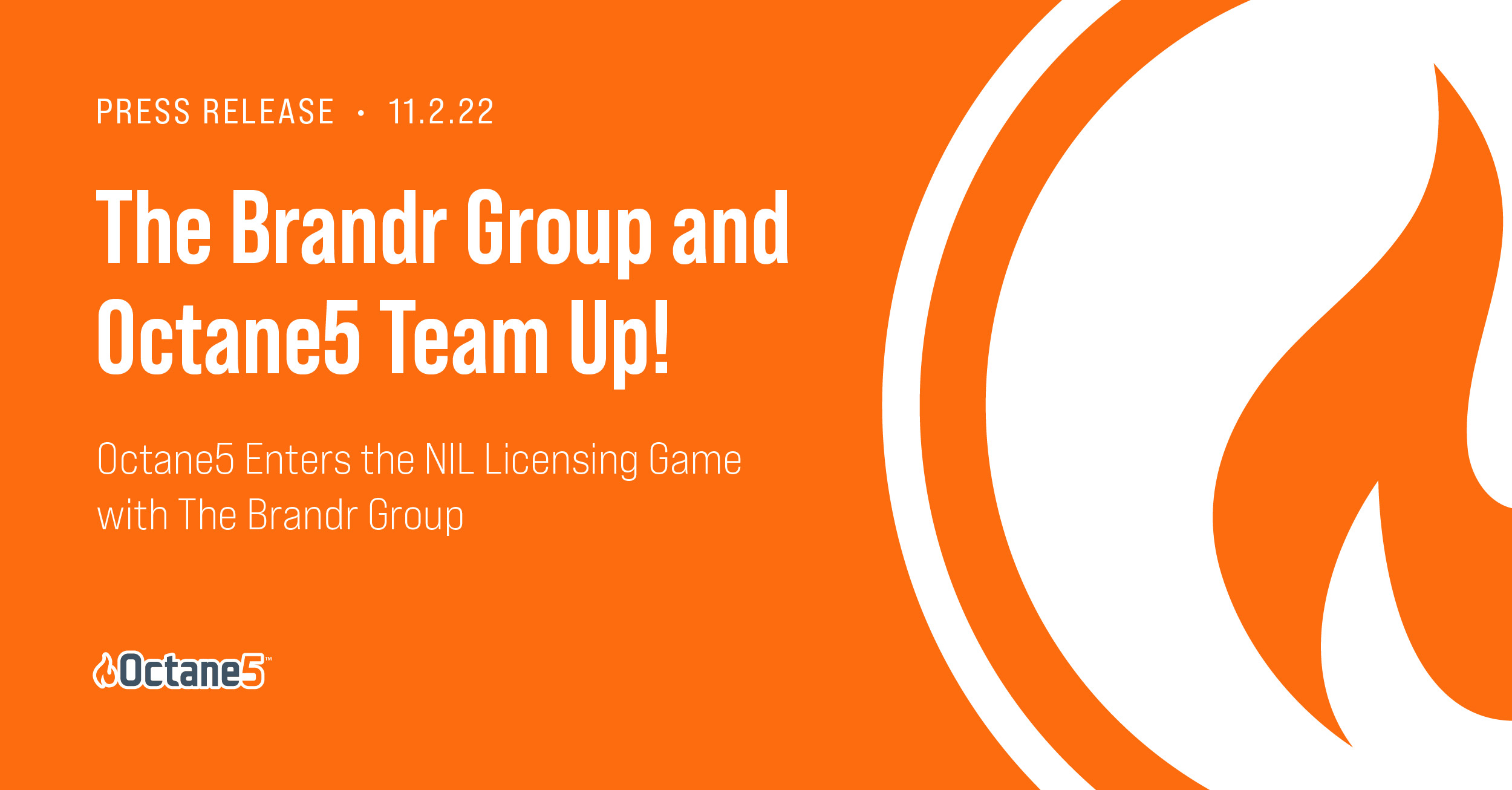 ATLANTA, November 2, 2022 - Octane5, the company behind the BrandComply licensing enterprise platform and VerityTM Security Hang Tags and Labels, announces a long-term partnership with The Brandr Group (TBG), based in Ponte Vedra Beach FL.
TBG, a brand management, marketing and licensing agency, manages and develops licensing opportunities on behalf of student-athletes and alumni. With decades of collective management experience for some of the world's largest brands, TBG also manages the group rights program for the NFL and MLB players' associations in the college space. 
Octane5 will develop an authentication program to protect the integrity of licensed merchandise and ensure appropriate royalties reach TBG's extensive roster of student-athletes and alumni. TBG licensed merchandise will include Octane5's Verity micro-optic technology, powered by Crane Authentication. 
In addition to this industry-leading authentication program, TBG will also leverage Octane5's BrandComply licensing platform to manage all aspects of their NIL licensing business. Starting with a proprietary athlete signup process and continuing through contract management, product approvals and royalty reporting, all key program functions will be performed within the Octane5 ecosystem.  
"Octane5 is proud to be at the forefront of the Name Image Likeness (NIL) licensing movement with The Brandr Group," said Mike Dunn, President and Co-Founder of Octane5. Thousands of student-athletes and alumni from over 65 major colleges and universities will be supported by Octane5 both on the field and on the retail shelves." 
"With the complexities and overall volume of athletes involved in TBG's group rights programs across so many collegiate sports, it was important to TBG to identify a platform tailor made for this type of environment and we're thrilled that we've found that in Octane5," remarked Kathleen Melvin, Senior Manager of Licensing Operations of TBG. "Octane5 has been a tremendous partner and problem solver of our unique needs, and the design/creative suite that's been deployed for the creation of our soon to come 'Licensed Player Product' identity authentication program has been top notch. We are excited to be a long-term partner with Octane5 in supporting our student-athlete and alumni programs in all of their commercial endeavors." 
Those interested in learning more about Octane5 and its industry leading products and software should contact info@octane5.com. 
About Octane5:
Octane5 is a team of licensing system and brand compliance experts delivering software and security products to leading global brands and institutions. Octane5 is the team behind BrandComplyTM licensing enterprise platform, BrandComply College, and Verity Micro-Optic security hang tag and label products. Both BrandComply platforms deliver brand compliance and protection through a fully integrated suite of software and security products that control virtually every aspect of the brand licensing ecosystem. Operating out of offices in Atlanta, Indianapolis and Brighton, UK, the Octane5 team serves a global client base consisting of hundreds of brands and tens of thousands of licensees. Learn more at www.octane5.com or www.brandcomplycollege.com
About The Brandr Group: 
The Brandr Group (TBG) is a brand management, marketing and licensing agency powered by a team with decades of collective management experience for some of the world's largest brands. TBG has emerged as the leading agency in group licensing programs, with rights to over 65 college athletic programs and their student athletes in the Name, Image and Likeness category including the biggest brands in college athletics.  TBG partners with prominent brands, colleges, sponsors, corporate trademarks, athletes and events to cultivate, diversity and monetize intellectual property through professional brand management and licensing endeavors. For more information, please visit tbgusa.com.