There is always something going on at Octane5!
Check out the latest or follow us on LinkedIn to stay in the loop.
Licensing International and Octane5 Name Participants In Global Mentoring Program, Announce Extended Partnership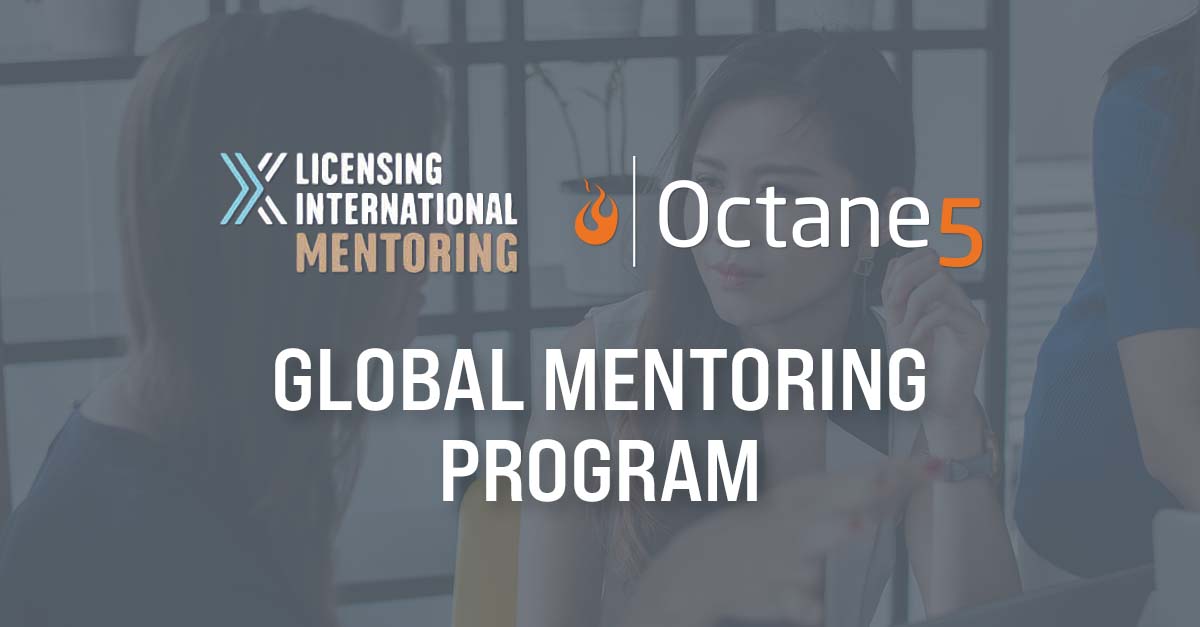 The first group of mentors and mentees in the Licensing International Mentoring Program have been paired. Launched by Licensing International and sponsor Octane5 in January, this year-long effort marks the industry's first ever global mentoring program and is aimed at bringing the expertise of global licensing veterans to young professionals.
Participants in this year's program come from companies spanning multiple categories and territories, including Acamar, Beanstalk Licensing, Bulldog Licensing, Discovery, Holy Joe, Jazwares, NASCAR, Paramount, Penguin Random House, Redbubble, Rocket Licensing and SEGA. The Licensing International Mentoring Program will initially focus on regions including the US, the UK, France, Germany, and Japan.
Mentoring is a powerful personal development and empowerment tool. In addition to allowing mentees to build skills and knowledge while working to attain their career goals, the program also provides an opportunity for mentors to further enhance their expertise through exposure to fresh perspectives.
In addition to sponsoring the mentoring program, Octane5 is expanding its partnership with Licensing international to sponsor the Licensing International Young Professionals Network (YPN). YPN is designed to help brand licensing professionals under the age of 35 to expand their skills, network, and horizons with free educational and social events. The 2022 YPN calendar kicked off March 31 in London, with more events coming soon to New York, Los Angeles, and Las Vegas.
"We are so excited to partner with Octane5 and appreciate their support of both the Mentoring and YPN programs," said Maura Reagan, President of Licensing International. "Mentoring is a powerful tool that has the potential to transform the licensing industry, and both of these programs provide opportunities for growth, development, and the building of meaningful connections." "Over 20 years ago, my brother Matt and I learned about licensing the way so many others do, by working and depending on industry veterans for advice," said Mike Dunn, Co-Founder and Co-President Octane5. "We love licensing—it's an energetic, dynamic industry with so many great people who are willing to help the next generation. We are especially proud to play a part in helping others learn and grow."
About Licensing International
Licensing International is the leading trade organization for the global licensing industry. Licensing International's mission is to foster the growth and expansion of licensing around the world, raise the level of professionalism for licensing practitioners, and create greater awareness of the benefits of licensing to the business community at large. Founded in 1985, Licensing International members in over 40 countries enjoy access to an array of benefits, including extensive educational programming and worldwide networking events. Visit LicensingInternational.org for more information and to utilize licensing's definitive online resource.
About Octane5
Octane5 is a team of licensing system and brand compliance experts delivering software and security products to leading global brands and institutions. Octane5 is the team behind BrandComply licensing enterprise platform, BrandComply College and VERITYTM and THREADSTM security hang tag and label products. Both BrandComply platforms deliver brand compliance and protection through a fully integrated suite of software and security products that control virtually every aspect of the brand licensing ecosystem. Operating out of offices in Atlanta, Indianapolis, Los Angeles and London, the Octane5 team serves a global client base consisting of hundreds of brands and tens of thousands of licensees. Learn more at www.octane5.com.
Contacts:
Elizabeth Foster
Director of Content and Communications, Licensing International
efoster@licensing.org
646-744+3747 ext 117
Jim Kucia
Executive Vice President
jim@octane5.com
770-877-0331