There is always something going on at Octane5!
Check out the latest or follow us on LinkedIn to stay in the loop
The Evolving World of Octane5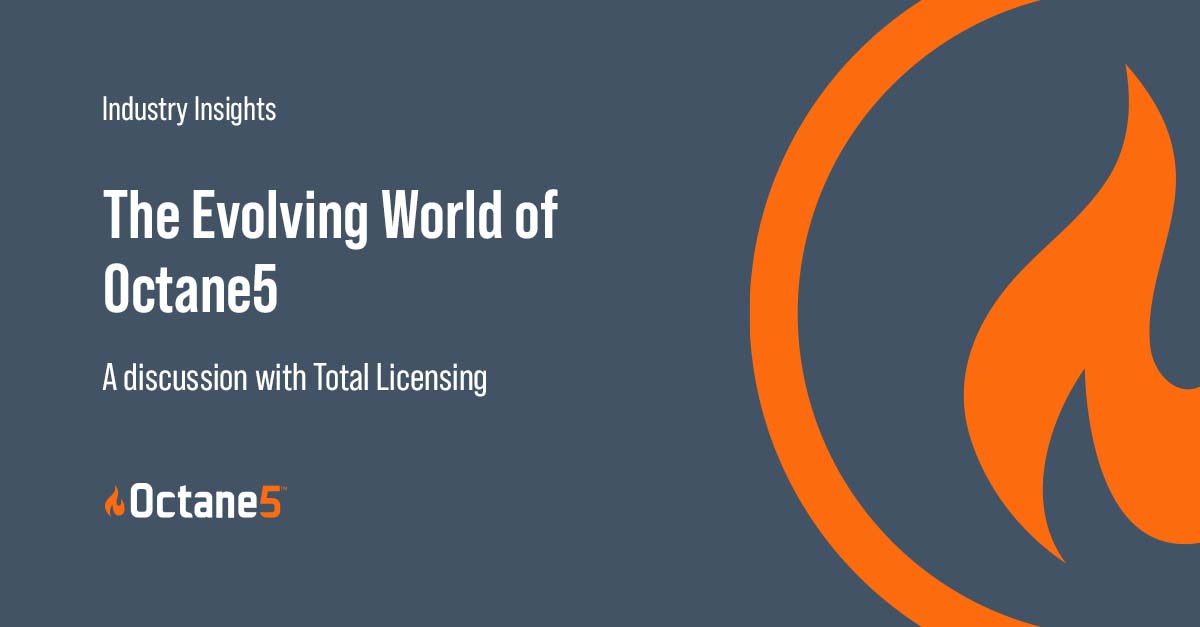 Total Licensing recently sat down with Mike Dunn and Matt Dunn, founders of Octane5 International, to learn what?s new in the licensing software and product authentication space.  
The past few years have seen multiple entrants into the licensing software space ? what?s been the impact on the overall market?  
Mike Dunn: That?s a great question. We?ve seen lots of venture capital money flow into our space over the last few years and we?ve obviously watched it with great interest. Money doesn?t buy competence in licensing technology ? if you don?t have the right people who really understand licensing and if you don?t have a passion for this industry, you won?t make it. It?s an incredibly complex and specialized space. We have seen some companies already dissolve and others struggle to satisfy big money investors and trusting clients. Most troubling, are the horror stories of promised features that never appear and systems that just don?t work.  
That is troubling, what has this meant for Octane5? 
Matt Dunn: Well it?s meant that more than ever, licensors will vet you carefully ? they want proven features and a proven, stable platform used globally by the largest brands. At Octane5, we are always completely upfront with prospective clients ? about what we do and what we don?t do. We see our engagements as a long-term partnership, not a quick sale so we try to educate our prospective clients on industry best practices and how to make the best decision for their business. No games, no smoke and mirrors.  
How has the market responded?  
Mike Dunn: Well over the past year we?ve added more new clients and more new licensing-experienced team members than ever before, so I think it responded incredibly well. Licensors understand that there is no substitute for the right team, technology, and experience when you?re looking for the right tools to run your licensing program.  
What else has happened at Octane5 since the last Brand Licensing Europe? 
Mike Dunn: Last year at BLE we announced our partnership with Crane Currency to leverage their incredible micro-optics technology to protect licensed brands, a product we call Verity. A year later, this partnership has far exceeded our expectations and licensors are really excited about the ability of this technology to securely protect their brands and engage their consumers.  
Matt Dunn: Consumer engagement has really taken off as more and more brands are seeking direct connection with their consumers at point of sale. We?re helping licensors learn consumer perception of their brands, their licensed products, and how they move consumers along the journey from licensed-product to core-product. These licensing leaders now have a great story to share internally that goes beyond royalty growth. We help them tell the story about how licensing supports the brand which is an incredibly powerful story to tell.