There is always something going on at Octane5!
Check out the latest or follow us on LinkedIn to stay in the loop
BrandComply College Selected By University of Massachusetts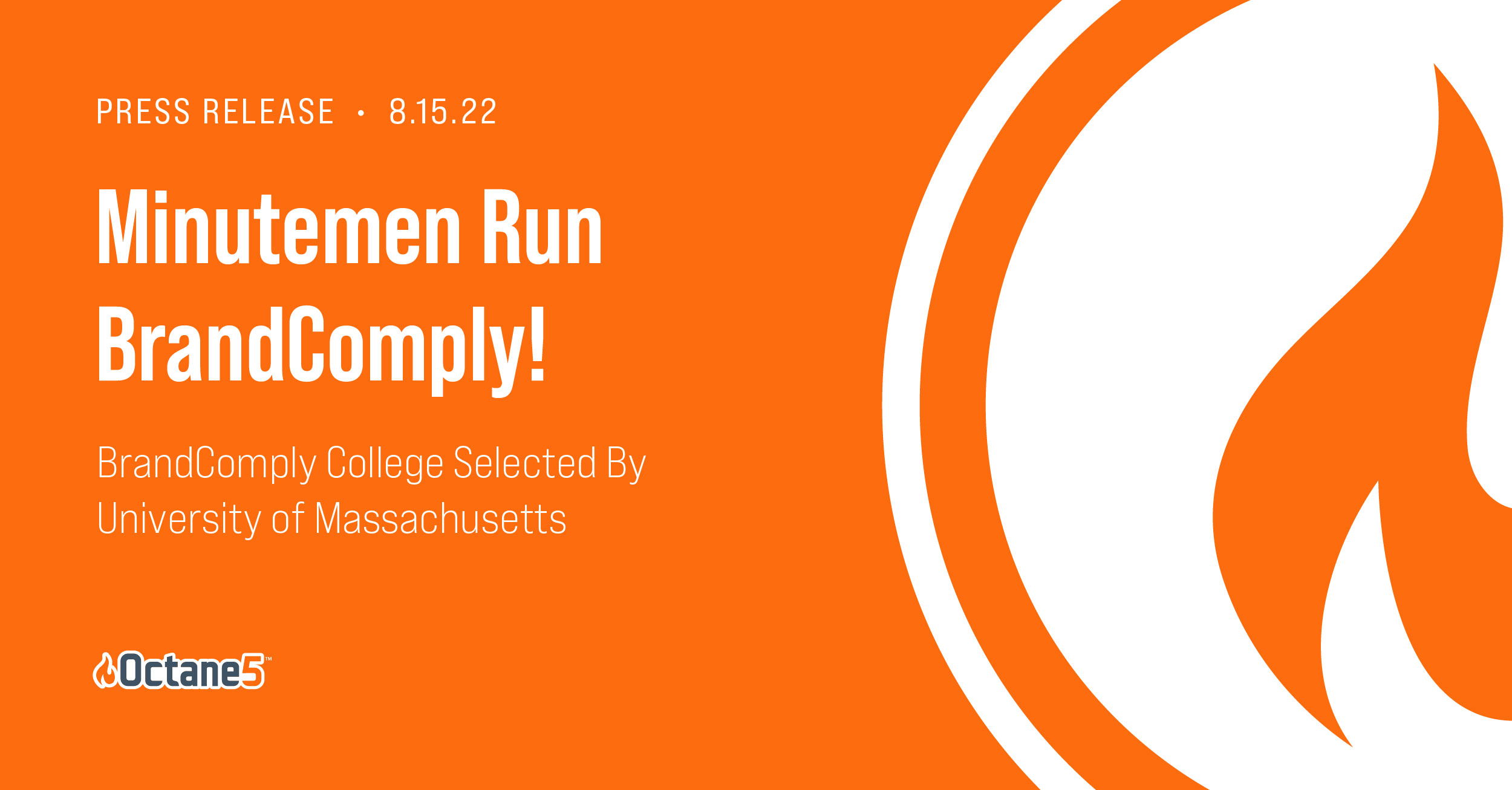 ATLANTA, August 15, 2022 - Octane5, the company behind the BrandComply College licensing enterprise platform and VerityTM Security Hang Tags and Labels, announces the University of Massachusetts as the latest BrandComply College client. UMass joins a growing list of independent institutions that have discovered how easy it is to run their licensing program through BrandComply.
"For many schools, managing a licensing program in-house makes sense. BrandComply College makes that process easy and the addition of UMass proves that out," said John Mybeck, President of BrandComply College. "BrandComply College lets institutions manage their entire program - Product Approvals, Royalties, Contracts, Assets and Brand Protection all in one place."
"As an independent, multi-campus system, our team at UMass was blown away by the functionality and reporting analytics that BrandComply College offers its clients. There is nothing quite like it and we knew right away it would help transform our program," said Evelin Simmons, University Trademark and Licensing Director at the University of Massachusetts. "These initial positive impressions have only grown since we launched the tool. The Brandcomply College team and their launch process are incredible and we're building the program we always envisioned for our fans and stakeholders at UMass."
"We appreciate the trust placed in us by the UMass team and all our partner institutions," stated Mybeck. "Interest in our solutions continues to grow with more and more schools joining and the market response has been incredibly gratifying."
About Octane5:
Octane5 is a team of licensing system and brand compliance experts delivering software and security products to leading global brands and institutions. Octane5 is the team behind BrandComply College, BrandComply licensing enterprise platform and VerityTM security hang tag and label products. Both BrandComply platforms deliver brand compliance and protection through a fully integrated suite of software and security products that control virtually every aspect of the brand licensing ecosystem. Operating out of offices in Atlanta, Indianapolis and London, the Octane5 team serves a global client base consisting of hundreds of brands and tens of thousands of licensees. Learn more at www.octane5.com or www.brandcomplycollege.com.
About the University of Massachusetts System:
The University of Massachusetts is a world-class public research university committed to advancing knowledge and transforming lives. Through its world-class educational programs, groundbreaking research enterprise, and its impactful community service and industry engagement activities, UMass harnesses the revolutionary spirit of Massachusetts to deliver an unparalleled student experience.
With four comprehensive campuses, a top-ranked medical school and a mission-driven law school, each campus offers a dynamic educational experience in a uniquely Massachusetts location, from the coastal town of Dartmouth to the international hub of Boston, from the vibrant mill cities of Lowell and Worcester to the bucolic hills of Amherst. Rigorous academic programs in a broad range of fields prepare students to contribute to their communities, thrive in a new economy and change the world.
Contact University of Massachusetts:
Evelin Simmons
University Trademark and Licensing Director
evelin.simmons@umass.edu
Contact BrandComply College:
John Mybeck
President
jmybeck@octane5.com
317.341.2371